Thinking about using gyprock? It's the most common material used for good reason. At Perth Ceiling and Walls we have a lot of experience with gyprock plasterboard. With our extensive range of skills and utmost professionalism we can fix any problem you may have with your ceilings and walls.You can be assured that we are the experts in gyprock ceiling repair in Perth. Give us a call today for a free quote.


What is Gyprock Made Of?
Gyprock plasterboard is made predominantly from gypsum, thick paper and a few other additives.  The paper liner is made entirely from newspapers and cartons that have been recycled and the additives consist of harmless materials like starch and foam.
How is Gyprock Made?
A wet plaster mix is made by using gypsum and then combining it with a non-toxic foaming agent. The plaster mix will then sandwiched  between two thick sheets of paper.  Then the resulting plasterboard is then dried in an oven before being cut into varied usable lengths.
Gyprock Plasterboard Installation
Knowing how to plaster gyprock is a skill that can save you some money. Using adhesives as well as screws and nails you'll be able to attach the plasterboard sheets onto any steel or timber frames. Additionally by taping and jointing your gyprock you'll be able to conceal the joints and create a more seamless look. Subsequently sanding the plasterboard is also possible as it can make it easier to paint over them or decorate.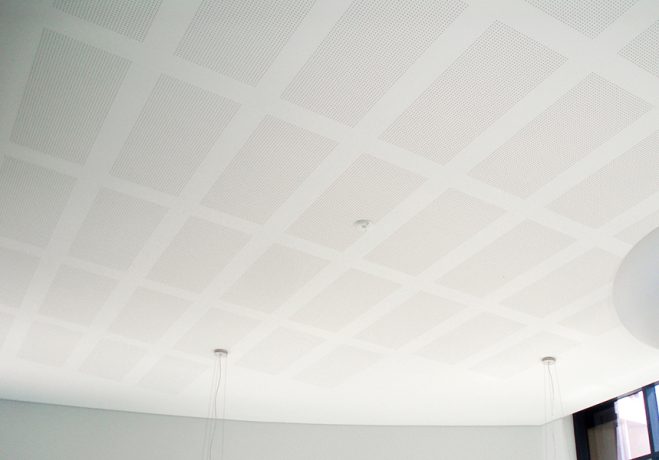 Gyprock Plasterboard And Some Of Its Benefits
Plasterboard comes with a wide range of benefits
It's easy to install. This allows construction processes to be sped up which in turn creates a more cost effective process.
It's easy to repair. Similarly this means that repair jobs will cost less and be solved faster.
It's sustainable. Plasterboard is made from sustainable materials and can itself be recycled
It's healthy. It doesn't contain any toxic chemicals that will compromise your health.
It's flexible. It has a wide range of uses with both fire and moisture resistant properties and varied levels of soundproofing
It's adaptable. It can easily be removed and relocated which makes it effective in preparation for potential renovations of changes to your layout
Contact Us Today
Do you have a gyprock ceiling in need of repair? Perth Ceiling and Walls are the leading company in the industry, specialising in ceiling repair in Perth. If you need ceiling plasterboard installed, your wall maintained or you concern about how to cleaning and maintenance the plasterboard ceiling.
Although plasterboard is the most common material used, we can repair other materials as well. Plaster is another common material used and we can do plaster repair for ceiling and wall issues that you may be facing.
We provide a high quality service that is unmatched in professionalism and price. We only use the finest  products from the most trusted plasterboard suppliers in Perth. So if you need any work done on your ceilings or walls contact us for a call on 0402 153 061.