At Perth Ceiling and Walls, we are leaders in quality ceiling repair, replacement, and restoration. Known throughout Perth for our expertise, workmanship, and service, we boast a long line of satisfied customers. Our ceiling installers Perth and ceiling replacement in Perth services will cover everything from minor cracks, sagging, and water damage right through to collapsed ceilings, and call us now for more information.


How Much Does Ceiling Installer Perth Cost
Many people ask "how much does ceiling installation cost?" It is understandable because it is an investment but the truth is that it is hard to quote. The plaster ceiling repair cost will depend upon the size of the ceiling, the extent of the damage, and the cost of materials preferred.
However, you can be sure that we use only the best materials, the most skilled workers, and all at great price ceiling installers near me.
Ceiling Replacement Process
The ceiling replacement Perth process involves removing lighting and the old ceiling, transporting it out of your home, and disposing of it in a skip bin. Your entire room will be cleaned before the new ceiling is installed. The next step in our ceiling installer Perth process is placing glue on the ceiling joists and screwing the new ceiling in place.
The same is done with all cornices and roses if required. The joins are taped and replastered. Once the plaster has dried, all joints and cornices are sanded and mitred before getting a final clean.
We can also provide electrical services to refit the lighting and paint the entire ceiling so it will look amazing. A room of average size will take one day for replacement and a few hours the next day for the finishing. All our work is completed to exacting standards.
Gyprock installer Perth's team is reliable, prompt, friendly, and courteous. They will leave your home exactly as they found it, and give you the best cost to replace the ceiling in Perth.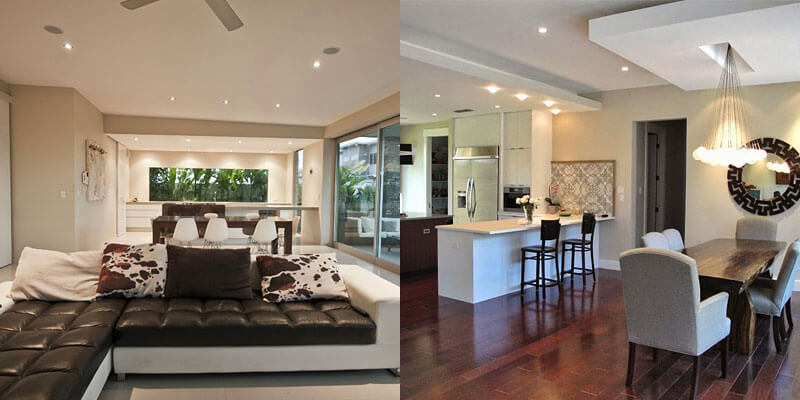 Common Ceiling Problems
There are many common ceiling problems and our Ceiling replacement Perth service can fix them all. The critical thing to realize is that you must see to it that you book us in before a small problem turns into a big disaster. Ceiling problems will occur in every home and there is no getting away from it.
It does help however to have an idea of what and why the damage has occurred to prevent worry or further damage. Usually, ceiling damage is due to a leaky roof caused by storm damage, burst pipes, age, or accident. Because the ceiling is not something you inspect regularly, by the time you notice discolouration, flaking, cracks, mould, sagging or gaps between the plasterboard ceiling, the problem has already peaked.
The dampness that has crept up will create mould and bacteria which can make your entire family ill and if that isn't bad enough, you could face a collapsed ceiling.
Plasterboard Installation & Ceiling Replacement Perth

Here at Perth Ceiling and Walls, our ceiling installers Perth and ceiling replacement in Perth services utilizes the best materials. We favour Gyprock which is the industry-leading and preferred ceiling repair service. This is because it is fire-resistant, dependable, of high quality, easy to paint, attractive, and effective cost to replace ceilings in Perth.
Our Gyprock ceiling installers do a fantastic job and are leaders in Gyprock ceiling repair throughout Perth.
Why Choose Us
Perth Ceiling and Walls are the preferred provider of ceiling installers in Perth. Our ceiling repair experience, knowledge, and customer care are second-to-none. All our work is guaranteed, our ceiling repairs can take care of all your Painting, Maintenance, or Renovation needs at the best price.
Plus we also take care of all insurance work. So if you've been searching for ceiling installers near me, search no more and contact us for a free, no-obligation quote.