We'll fix the source of your water damage ceiling. And we'll restore your ceiling to its former state to prevent any dangerous structural damage to the home.
Water damage ceiling is a regular occurrence. Not only does it look unsightly, but it is also very unsafe. While you may be tempted to call in a handyman or even fix it yourself, you could end up with bigger problems overall. To get the ceiling fixed safely and speedily, call in an expert in this field.

If you can't fix the problem, we can. How long will it take for us to repair them? It'll depend on the source of the leak and how bad the damage is. But we will make sure we complete the repair as thoroughly as possible so you can continue with your day. Contact Perth Ceiling and Walls now to fix water damage and ceiling repair Perth.
Common Water Damage Ceiling Problems
The most common type of water damage is from a leaky roof due to damage caused by:
heavy rain and storms
burst pipes embedded into the walls
man-made accidents
The problem is that not many people are looking up at their roofs so they often miss signs of water damage until it is too late. If you notice spots, drips, mould, or sagging plaster you could be dealing with ceiling water damage in Perth.
If you don't fix the problem immediately you could end up with a collapsed ceiling and a massive job on your hands. Once the drip starts, the roof has already been exposed to water pools. It can spread until it finds a place to travel down and build up. Not only will the dampness stain the ceiling, but mould will form and bacteria will spread causing sickness, that's why you need to call the expert water damage and roof ceiling repair Perth immediately.

Water Damaged Ceiling Repairs
Repairing the water damaged ceiling and roof ceiling repair in Perth will take some time. We have to remove the moisture from the ceiling through installed dehumidifiers. It prevents mould from growing and spreading onto the walls.
Here at Perth Ceilings and Walls, we pride ourselves on our professional, quick and spotless leaking ceiling repairs in Perth. We're known for repairing water damage ceilings in Perth. And we come to your home where our specialised tradesmen will inspect your roof cavity to identify the problem.
We will also estimate the ceiling water damage repair cost. It depends on the following:
whether the ceiling is made from plaster or drywall
the condition of the ceiling
the size of the room
For ceiling repairs in Perth, you need a team who know exactly what they are doing, get in and out and get the water damage ceiling job done!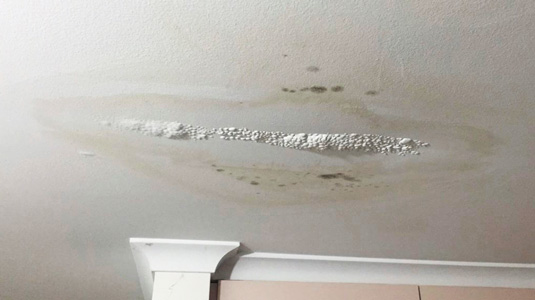 Professional Ceiling Repair Water Damage Perth
If you're dealing with water damage in your ceiling in Perth, don't wait to address the issue. Our professional ceiling repair and water damage restoration services can help restore your home or business to its pre-damage condition.
We have the expertise and the equipment needed to properly provide effective solutions to prevent further damage. We'll work quickly and efficiently to repair or replace damaged ceiling materials, dry out the affected area, and restore your ceiling to its original condition.
Don't let water damage compromise the safety and integrity of your property – contact us today for reliable and effective ceiling repair and water damage restoration services near you in Perth.
Frequently Asked Questions
It is not recommended to simply paint over a water damaged ceiling without addressing the underlying issue that caused the damage in the first place. It may temporarily cover up the problem, but it will not fix it and the damage will likely continue to worsen over time.
It's best to call a professional water damage restoration company like us who specializes in water damaged ceiling repair. We have the experience and expertise to properly assess the damage, identify the source of the water intrusion, and provide effective solutions to restore your ceiling and prevent further damage.