Ceiling renovations have the power to breathe new life into your living space. Whether it's remodelling a commercial premise or restoring an old home. Maintaining and renovating your ceiling is essential to preserve its condition and protect it from water damage and wear and tear.
Ceilings play a significant role in making a statement and enhancing the overall look and feel of your home. The cost of replacing a ceiling depends on factors such as the required materials and the size of the ceiling.
Small Jobs: Starting at $500 (Minor repairs like patching and painting)
Medium-Sized Jobs: Ranging from $1000 to $2000 (Repair or restoration)
Major Repairs: Starting at $2000 and up to $5000 (Restoration, extensive repairs, total replacement)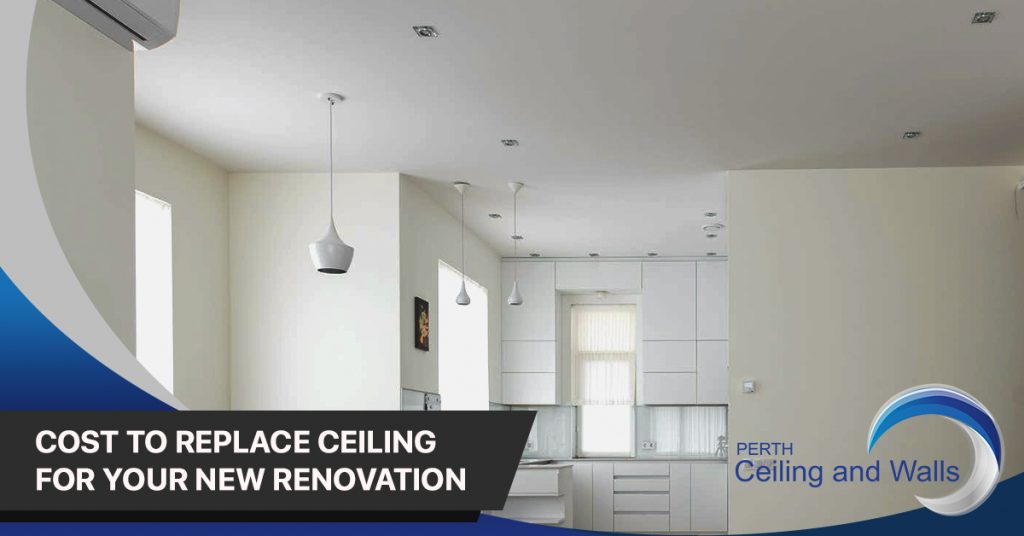 How Much Does a New Ceiling Cost?
The cost of a new ceiling installation or major repairs can range between $2000 to $5000. It will depend on factors such as the size of the ceiling, materials chosen, and additional services required. For a more accurate cost estimate tailored to your specific project, please contact us directly at Perth Ceiling and Walls.
Renovating your ceiling can sometimes be time-consuming and costly. We use the most skilled workers, the best materials, and affordable rates when you choose to replace your ceiling with us.
Our dedicated and professional team will quickly, efficiently, and effectively renovate your ceiling at home, leaving you happy and satisfied. Whether you require a ceiling replacement, sagging ceiling repair, water-damaged ceiling repair, or ceiling renovation, Perth Ceiling and Walls will ensure that the job is efficiently completed.


Why Ceiling Renovation Becomes a Priority
Perth Ceiling and Walls specializes in ceiling restoration and ensures that your ceiling renovation is done efficiently and becomes their number one priority from start to finish. Ceiling renovation becomes a priority when you want to remove your existing ceiling to enhance the appearance with a new style or add some height to your room. A ceiling restoration or renovation will become a priority when a storm brings disaster by reaping off your property's entire roofing system.
The cost to replace the ceiling for your new renovation depends on whether you want to replace your entire ceiling, make a ceiling addition or renovate the ceiling. A ceiling renovation becomes a priority when a water-damaged ceiling or sagging ceiling threatens to collapse or fall, causing damages or injuries to the homeowner. At Perth Ceilings and Walls, we specialize in making your priority our priority by making sure we repair any water-damaged ceilings or sagging ceilings.
We specialize in the repair, replacement, and restoration of ceilings in Perth. We have been in the industry for years and trusted some of Perth's most prominent architects, developers, and contractors.
Perth's Trusted Ceiling Restoration
At Perth Ceiling and Walls, we are a reliable service company with a professional team of experts committed to attending to ceilings with general wear and tear or suffering from water damage. Our experienced team offers high-level expertise and skills, whether you are embarking on a small project for one room, workspace, or extensive ceiling renovations. Choose our services today and be guaranteed quality, absolute attention to detail, and professionalism.
It would help if you did not worry about the cost to replace the ceiling in Australia since our professional team of experts will give you a quote depending on the size of the ceiling and the cost of materials. For more information about the cost of ceiling restorations and our services in Perth, reach out to us today on 0402 153 061 for a free quote and the best customer experience.