Ceiling roses are a great way to brighten up your dull, white ceiling. They give the look of luxury, is the perfect accompaniment to your light fitting and can actually transform the entire room.


A plaster ceiling rose is easy to install and isn't as expensive as you may think. Here's all you need to know about ceiling roses:
What are ceiling roses?
A plaster ceiling rose is typically defined as an ornamental aspect of your ceiling. Commonly a light fitting or chandelier is hangs from the centre of it to make it much more stunning. While ceiling roses are typically made from plasterboard, you will find plenty of more recent alternatives available.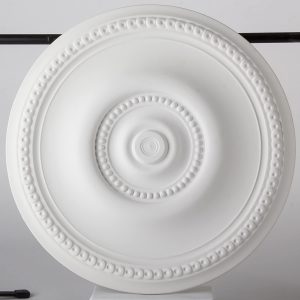 Your plaster ceiling roses is generally round in shape, however it can be oblong, or have ornamental components prolonging out from the primary rose. You can select from a substantial range of layouts such as art deco, standard as well as contemporary, and they can be straightforward or exceptionally luxuriant. The ceiling rose can also be painted the exact same colour as the rest of the ceiling, however you can also go for a different colour to pick out the patterns of the rose and add that extra artistic flair. For example, you may make use of different shades of green for any kind of leaves or a range of muted reds for blossoms and so forth.
The ceiling rose can be the sole attractive aspect on your ceiling but they look much more fantastic if you match them with various other trims and also mouldings such as cornices, architraves, and so forth. Having a ceiling rose is likewise the ideal way to draw attention to a particularly stunning pendant or light fixture– however you do require to have an electrician do any kind of electrical wiring work that is related to fitting the brand-new lights.
Installing Ceiling Roses
Of course you can attempt to install the ceiling rose on your own if you are comfortable working with plaster. However to ensure you get the best result, it is better to hire a ceiling installer. With expert installation, you'd never know that the ceiling rose is an enhancement as it will certainly look like it's always become part of the ceiling.
Here at Perth Ceiling and Walls, we are all about ceilings and are the leaders in Perth ceiling repair. We specialise in new homes as well as all aspects of ceilings and walls.  We can supply and install your plasterboard and ceiling rose in Perth and our friendly, experienced and reliable teams are on hand to answer any questions you may have and talk you through the entire process.
Contact us now for a no-obligation quote and we guarantee all our work and give you the best price.