Walls and Ceiling Repairs in Perth
Get the best walls and ceiling repairs in Perth. Your walls could be as good as new with the help of Perth Ceiling and Walls. Using only the highest quality materials and industry-leading workmanship, we can bring your walls and ceilings repairs in Perth back to life and increase their longevity and durability. A good wall and ceiling repair contractor is one that can do the job quickly and do the job right. We have many years of experience and a wide array of satisfied customers that speak to our skill and expertise. Call Perth Ceiling & Walls today and get faster and better repairs guaranteed.


We offer wall repairs & replacement services to sectors of all kinds including residential, commercial, and real estate. Jobs are carried out with minimal disturbance to your daily routine, with all aspects taken care of including drywall hanging and finishing. Our service is always professional and reliable, and we ensure repairs are completed without causing inconvenience. No matter the job you need, you can count on us to do the job and do it right.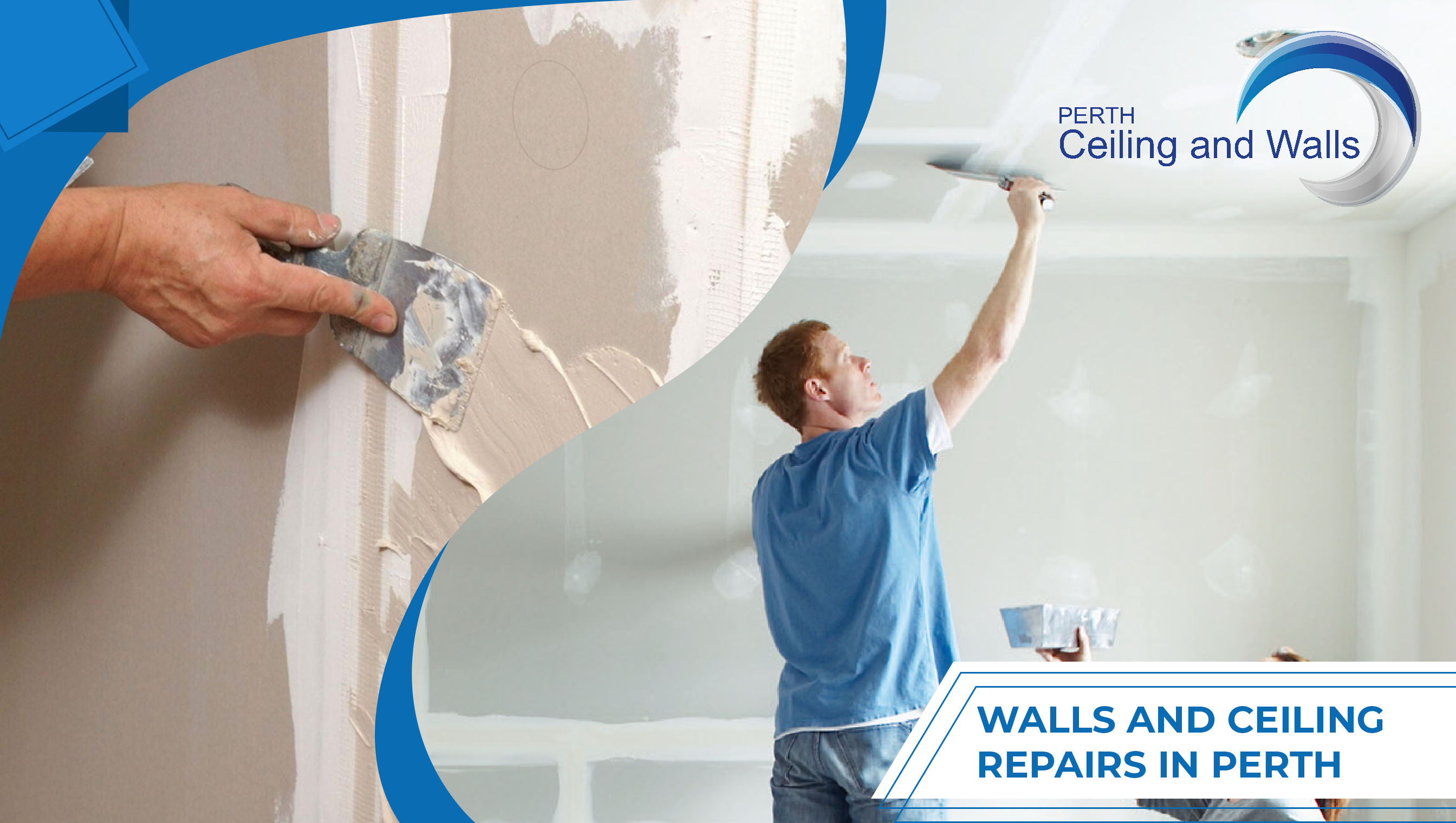 What Kind of Walls Repairs Can I Get?
Our team has extensive industry experience when it comes to wall repairs in Perth. No matter what your individual situation is, our team is skilled and adaptable enough to handle whatever issues arise. Some of the many situations and requirements that our team is faced with daily include:
Cracked, chipped or otherwise blemished walls in need of repair
Holes and imperfections that require a patch up
Mould growth
Water damage
Using the dry walling technique for rendering purposes
Installation of a partition wall
Painting services
Touching up the house in preparation for a sale
Organising the removal and replacement of walls
Our team's expertise doesn't stop there. We specialise in walls and ceiling repairs in Perth including when you have a sagging ceiling, a water damaged ceiling or if you need a gyprock fixer in Perth.
Why Choose Perth Ceiling & Walls?
An administrative staff that is friendly, helpful, and always happy to help from the moment you seek answers to your inquiries until the time our job is done.
Skilled tradesman that know how to find the source of the problem, with extensive experience with building and construction.
We can handle materials of all kinds, from traditional lath and plaster to gyprock plasterboard, the modern favourite.
Punctual and reliable staff – we show up when we say we will, and we're always on time.
High-quality products used for building, from trusted and reputable suppliers.
Honest and dependable tradesmen, just to set your mind at ease.
We can't put enough emphasis on word that is "neat and tidy." WE ARE ON POINT!
Obligation-free quotes for no charge in the Perth metropolitan area; our dedicated quoters will discuss the different cost and durability options that we can make available to you.
Contact Perth Ceiling and Walls Today
We make sure that we are available to repair anything no matter how small or large. From minor cracked walls and ceiling repairs in Perth to an entire wall replacement, we treat every job with the same professional and dedicated attitude. Our experienced team can help breathe new life into your old or damaged walls and have them looking brand new in no time at all.
If you need ceiling and wall repairs in Perth then Perth Ceiling and Walls is the company for you. We provide free quotes throughout the entire metro area and are entirely obligation-free. So, contact us today or give us a call on 0402 153 061 to arrange an inspection.