Looking for a cheap but high quality material for your ceilings? Gyprock plasterboard has seen its popularity skyrocket since it came onto the scene in the mid 20th century and has become the most common material used in ceilings. It is the top choice for many due to its adaptable and versatile nature. At Perth Ceiling and Walls, we provide a complete service that will save you time and money.


Plasterboard – Just How Is It Made?
Gyprock is made using gypsum and a foaming agent which is then wedged between two thick pieces of paper, referred to as a backer and a facer. In order to alter the properties of plasterboard, additives are occasionally added to the gypsum or the weight and strength of the paper sheets are modified. This results in a very versatile material.
How Plasterboard Revolutionized Homebuilding
Prior to World War II plaster and lath was the predominant homebuilding material. This was a very time consuming process as lath required installation and then three coats of plaster needed to be applied with each coat needing to dry before another was added. Additionally, getting a perfect finish was hard and as such sanding was often needed to get a desirable result. Only once this was completed could further embellishment begin.
On the other hand, plasterboard comes in large sheets and just takes a few nails to apply and some putty to cover over the cracks. This meant that the process could be completed in less than a day which meant the service was cheaper. This is why plasterboards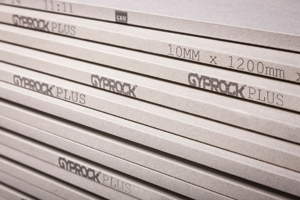 The Advantages Of Using Gyprock Plasterboard
There are many advantages beyond it's simple installation benefits. It is a highly adaptable and versatile material which is able to be moulded quite easily to suit any design. They are the product of choice for anyone on a tight budget who still requires a high quality material.  It's a lightweight and safe to handle product that makes it easier to repair and replace.
Plasterboard is also a very environmentally friendly option as most of them are made sustainable resources and can even contain up to 45% recycled materials. They are free of any hazardous chemicals and provide a healthy living environment.
It is fire resistant due to the small amount of water that exists in the crystal that make up gypsum. It can also be modified to have properties such as moisture resistance and soundproofing.
Need Professional Installation or Gyprock Ceiling Repair in Perth?
Gyprock plasterboard is an impressive material so it's no wonder that its popularity has endured for years. For top quality plasterboard suppliers choose Perth Ceiling and Walls. We provide the best quality service with unbeatable professionalism, timeliness and price. So give us a call today on 0402 153 061 for a free quote.